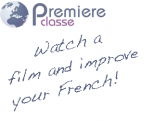 This French course is aimed at people in Edinburgh with a good grasp of the language (from intermediate or B1). It provides a good mix of activities, both in terms of speaking and listening, aimed at developing your vocabulary and your understanding of rapidly spoken French.
The integration of video material (films) allows you to get to grips with slang and less formal aspects of the language. We normally spend 3 sessions over a single film. 
The first session involves watching the film (usually with English subtitles), followed by a discussion about the general themes explored in the movie. We also explore the film's background (directors, script-writers, actors). ATTENTION: the first session usually starts earlier (typically at 7.30pm) to allow time for discussion after watching the film!
Then two further sessions include the study of extracts, with carefully designed exercises, followed by a discussion of the issues explored in the film – and beyond!
Interested in finding out more about the Cinéclasse? Why not contact Lise today to check if this is the right level for you? >>> Free assessment of your present level!
Gift vouchers are also available if you would like to offer  someone a special gift that will last them for 10 weeks! Contact Lise for more information 🙂
PLEASE BE AWARE THAT CLASSES FILL UP QUICKLY: Â BOOK EARLY TO AVOID DISAPPOINTMENT!
The fees include documents used in class, as well as a selection of tea/coffee/herbal teas.

Minimum number of students: 4

Maximum number of students: 8
For more information and for a free assessment of your level to determine if this is the right group for you, contact Lise at lise@edilang.com or on (0131) 667 3999.